Nearly 20% of the global electricity generation is through hydroelectric power. It is both a clean and efficient process. Once the hydroelectric plant is producing power, there is no direct waste and low levels of CO2 emissions. EETS has been a part of the water power movement since 1984 when we worked on our first hydro project – the refurbishment of Virginia Ranch Dam in Yuba County, originally commissioned in 1962. Since that time, EETS engineers have worked with both the public and private sectors on numerous hydroelectric projects ranging from 250kW to 685MW in power production.
Spotlight:

Hydroelectric Projects
SMUD Upper American River Hydro (UARP)
Upper American River, California
EETS was asked to provide the electrical design of new PLC-based hydroelectric governors and turbine shutoff valve controls of ten (10) hydroelectric units at seven locations in the Sierra Nevada Mountains: Loon Lake Powerhouse (1 – 82MW Pelton), Robbs Peak Powerhouse (1 – 29MW Francis), Camino Powerhouse (2 – 75MW Francis), Union Valley Powerhouse (1 – 46.7MW Francis), White Rock Powerhouse (2 – 112MW Francis), Jones Fork Powerhouse (1 – 11.5MW Francis), Jay Bird Powerhouse (2 – 72MW Pelton). The ten (10) units, constructed primarily in the 1960s, represent approximately 685MW of generating capacity. In addition, EETS provided electrical design for refurbishment at Slab Creek Powerhouse and Camp Far West.

EETS's work scope included:
Formulate detailed Scope Plan
Review alternative governor architectures and vendor-specific solutions/procure and review requirements
Detailed review & cross referencing of existing facility documentation at SMUD's Fresh Pond office for governor and TSV control functions (station drawings, O&Ms, design data, machine and penstock model analysis, commissioning test results)
Design new 12kV electrical service from Pacific Gas & Electric
Reconnection of existing plant service at 12kV level
Design for new 750kVA solar field, step-up transformer and utility interconnection
Piping and instrumentation, one-line of governor and TSV functions
Programmable logic controllers and associated equipment
Process instrumentation and control systems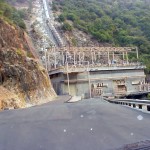 Alameda County Water District WTP #2 Energy Recovery Hydro
Alameda County, California
The six hydroelectric turbine generators were capable of generating 1.25MW of electricity from incoming water flow from South Bay Aqueduct. Four of the six 250kW generators were replaced with 300kW turbine generator units. EETS engineers prepared the electric design for these four new induction generators including protection and control. This upgrade saves the water district upwards of a half-million dollars when compared to PG&E purchase pricing.
PG&E-Electra Hydroelectric Power House
Mokelumne County, California
The Electra Powerhouse, built to replace the Old Electra Powerhouse and completed in 1948, supports the Amador Water System (AWS) by diverting water from Lake Tabeaud into the Amador Canal. The canal then feeds two water treatment plants (Tanner and Ione).  Another portion of Lake Tabeaud water is driven through the Electra Powerhouse for hydroelectric generation and then released into the Mokelumne River for delivery to the East Bay Municipal Utility District and its Pardee Reservoir. Electra is the largest of the powerhouses on the Mokelumne (capable of generating over 100MW of electricity) and, as such, frequently acts as a governing station for the entire system, especially as regards interchange of power.  Power is delivered to either of the two 230kV transmission lines, joining the output of the Salt Springs and Tiger Creek plants..  Because Lake Tabeaud acts as a forebay, Electra Powerhouse can increase and decrease load in steps to stabilize the grid.  

 EETS engineers did the design work for the replacement of three field circuit breakers and three generator neutral grounding transformers, as well as generator field cables for the three units.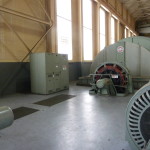 City of Escondido – Bear Valley Hydro
Escondido, California
Design of new protective relay and PLC-based control with HMI terminal for this 1.5MW two-unit hydroelectric facility, including HMI interface with City's water treatment plant system. Design of modifications to existing plant power and instrumentation systems.
Slab Creek Hydroelectric Facility
Eldorado County, California
Design of Modicon PLC-based control and instrumentation system and SCADA interface for refurbished 450kW induction generator Francis hydro unit. Review and revision of unit protective relaying as well as start-up support.
PG&E Wise Hydroelectric Powerhouse
Auburn, California
Wise Powerhouse is an integral part of a system of reservoirs, canals and other powerhouses originating at Spaulding Dam and capable of generating 14 MW of electricity. Originally commissioned into service in 1917 by PG&E, this powerhouse has undergone many series of upgrades and refurbishments.  EETS engineers were responsible for the design of a replacement generator neutral grounding transformer and field cables for the most recent refurbishment.